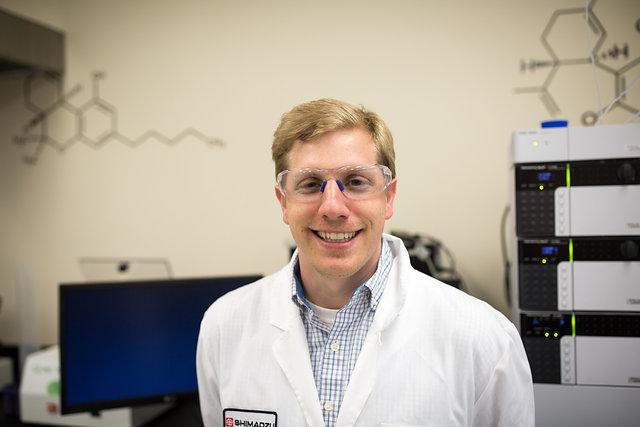 Kyle Shelton holds a BS in Chemistry from Appalachian State University located in Boone, NC. He has 8 total years of analytical laboratory experience working in the tobacco and cannabis industry focusing on quantifying various chemical compounds from each plant.
After graduating college, Kyle worked as a lab tech prepping tobacco samples for pesticide analysis at Global Laboratory Services in Wilson, NC. He quickly worked his way towards becoming a chemist and started working directly with LC/MS/MS analysis. By the time he left GLS, he was operating 5 LC/MS/MS instruments detecting over 100 analytes for 10,000 samples annually. He landed a cannabis testing job in 2014 at Phytalab in Kirkland, WA. This opportunity provided him with enormous insight into the cannabis industry as a whole.
"Cannabis is the future. Cannabis chemistry is challenging and unique. The cannabis industry has the potential to become a booming industry and labs will play a key role in meeting regulatory demands and helping organizations achieve their greatest potential."
Mr. Shelton has worked, in-depth, with a variety of chemical instrumentation such as HPLC-UV, HPLC-PDA, GC-FID, HS-GC-FID, GC/MS/MS, and LC/MS/MS. He has an understanding of chromatography and quantitative chemical analysis. He also understands laboratory workflow and the importance of maintaining a robust Quality Assurance plan.
At Medicine Creek Analytics, Mr. Shelton has multiple roles but mainly focuses on pesticide residue analysis, method development, QA/QC monitoring, and training current staff.
Outside of work, Kyle enjoys spending time with his wife and 2 dogs. He enjoys playing golf, camping, and working at the lab. He is an avid sports fan enjoying all teams from NC except Duke Basketball. Having relocated in 2014, he enjoys exploring all of what the PNW has to offer.
In the future, Kyle looks forward to building relationships with clients, working on special projects and growing MCA. He wants to focus his efforts on expanding the scope of all current analyses, developing new methodology, and educating people on lab testing.